Sustainable Ramadan Campaign to Reduce Food Waste
Image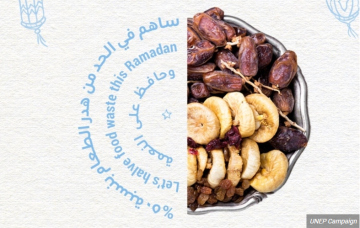 From 21 March to 28 April United Nations Environment Programme - Regional Office of West Asia (UNEP ROWA), through GO4SDGs, will run the 'Sustainable Ramadan' campaign. The objective of the campaign is to raise awareness about the adverse impacts of food waste on the environment, on food security notably in a region that relies heavily on imports, and on climate change. The campaign will also include information on ways to reduce food waste and to promote action towards achieving SDG 12.3 in an interactive and visually appealing manner.
The campaign is the second phase of the Recipe of Change (ROC) campaign and following the appointment of Chef Leyla Fathallah as UNEP Advocate on Food Waste in West Asia region. It aligns with GO4SDGs' work toward creating sustainable consumption and production patterns and increase the sustainability of the agri-food value chain, by capacity development on measurement and policies to reduce food waste, and awareness and behavioral change campaigns.
According to the State of Food Waste in West Asia report "During Ramadan, 30-50 per cent of the food prepared in Saudi Arabia is thrown away; these shares reach 25 per cent in Qatar and 40 per cent in the United Arab Emirates." This increase in food waste is attributed to the preparation of extravagant meals with leftovers being thrown away. This is common in the West Asia region, a region with socio-cultural traditions and annual religious festivals.
The campaign will also feature Chef Leyla Fathallah who will assist UNEP ROWA in promoting the material to reach the maximum audience possible as she currently has over 1.4 million followers on Instagram and 2 million on Facebook. The campaign will be launched on the first day of Ramadan and will run daily. Read more about how food waste has become a daily preoccupation for Chef Leyla Fathallah in this web story. 

Published on March 21, 2023
Image
Event start date
07:38 am
21/03/2023
Event end date
07:38 am
28/04/2023
You might also be Interested in